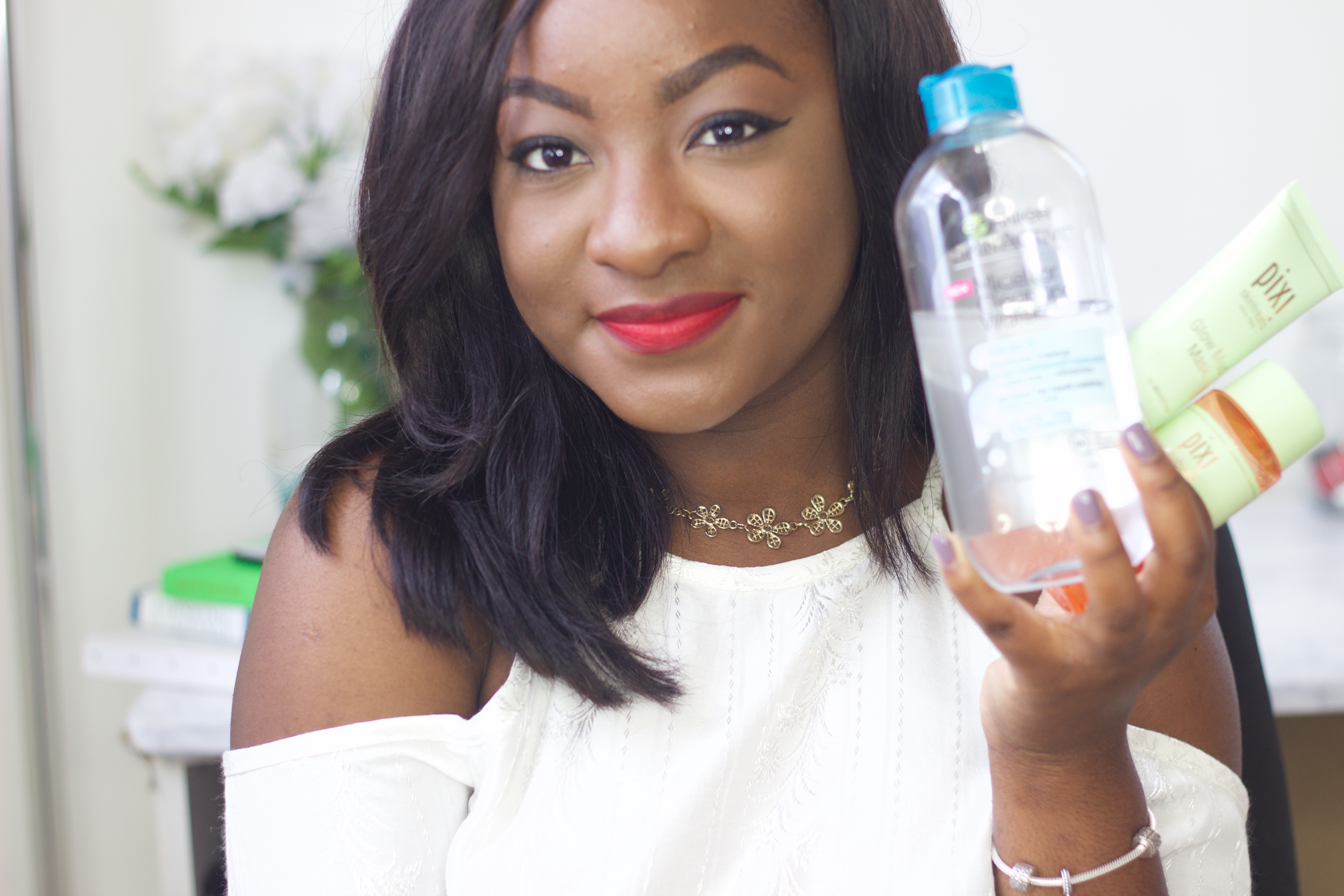 I'm back & today I'm spilling all of my skin care secrets. My skin is not perfect, I brake out, suffer with hyper-pigmentation and the whole shebang, but I continue to care for my skin the best way I know. I have combination skin ( oily some parts + dry in other parts) and my skin is extremely tolerable, meaning my skin is able to endure all types of ingredients without getting reactions. Knowing that I have tolerable skin, I love trying all types of products, I have a slight obsession with skin care products and always trying out new skincare products, my skin care routine change faster that you can say " Gus goes by blue goose " x3. Surprisingly, I've been following this specific routine for the last few weeks and wanted to share it with you all.
Removing make up 
The first step is to remove all the makeup on your face, I like to start off with a makeup wipe then followup with a micellar water to remove any left over makeup on my face. This step should not be neglected before moving to the next step. Then I cleanse my face using my biore free your pores cleanser. Most nights I end it there and proceed with simply applying my toner and moisterizer and call it a night, but when I want a deeper cleanse, I continue with step 2 bellow.
Recommend: Neutrogena Wipe, Simple wipes, Olay wipes, Simple micellar water, Garner micellar water, Lancome micellar water
2. Face Steam
There are dozens of face steamers on the market pricing from $22-$200, but here's how you can achieve the same results for FREE. Heat up some water in a kettle or a pot, pour it in a heat safe bowl on a flat surface, place a towel over your head and place your face over the water. Place your face close enough where the steam hits your face, but not to close where the water touches your face. I like to take this step a step further & apply two drops of essential oils ( peppermint, tea tree)  into the water. The purpose of steaming your face is to open your pores. This process helps to free any dead cells, dirt, bacteria or other trapped matter that could be causing breakouts, and it can allow your skin to better absorb any other products you might use after the steaming.
3. Face Mask 
I like to use a clay mask after opening my pores, so that my skin can absorb the ingredients better. You can choose any kind of mask, not necessarily a clay mask. I usually leave my mask for 20-30 minutes while reading a book, watching a show or getting some work done.
Recommend: Aztec Clay Mask , Pixi clay mask,
3. Tone
After removing my mask using lukewarm water, I use a toner with a cotton pad and dab it on my skin. The toner helps close the pores and also refresh the skin. Closing your pores back up is EXTREMELY important, having open pores can trap dirt and bacteria found in the air which can lead to much greater breakouts. After toning, sometimes before toning I take a slice of lemon and wipe it in areas of my face that are darker, this help fades black black spots & also moisturize.
Recommend: Pixi toner , Body shop toner, Botanics toner
4. Serum
Serum is absolutely optional and not necessary, but I like to take it the extra mile. Serums help with things like smoothing out fine lines and reducing age spots.
Recommend: Murad Serum, Oz naturals serum
5. Moisturize 
Whether you have oily skin or dry skin, moisturizer is a must. To be completely clear, understand that putting body lotion on your face is not moisturizer nor will it benefit your skin. Find a moisturizer that cater to your skin type & moisturize your face at least twice a day.
Recommend: Olay moisturizer , Neutrogena Hydro boost, Clinique Moisture surge
If you prefer a visual of my skin care routine, watch here.
Let me know in the comments one skincare product that you love.